Programación fiestas patronales de Algorfa 2014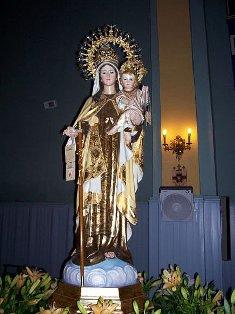 Description:
Actividades culturales
Dates:

Starts: 11/07/2014
Ends: 17/07/2014
Programación fiestas patronales de Algorfa 2014


Lunes 14 de julio

19:30h - GRAN CARRERA DE CINTAS,
organizada por el Coro Santa Cecilia.
Lugar: C/ Constitución (frente restaurante La Ermita ).

21:00h- BATUKA Y ZUMBA,
Con la actuación de la escuela Municipal de batuka, la asociación Mujeres de Algorfa y la academia Mary Girona.

23:00h- CONCIERTO,
En la Plaza de España a cargo de la Sociedad Musical y Cultural de Algorfa

Martes 15 de julio

20:00h- OFRENDA DE FLORES,
El volteo de campanas nos anunciará el desfile floral acompañados por la COLLA DOLCAINERS I TABALE TERS de ELX EL CASCABOT.
Salida: Biblioteca Municipal.

22:30h- FESTIVAL BAILE,
En la Plaza de España a cargo de las alumnas de la
Academia de baile MARY GIRONA y actuación del grupo
ONLY DANCE.

Miércoles 16 de julio; FESTIVIDAD DE NUESTRA PATRONA LA VIRGEN DEL CARMEN

8:00h- l VOLTEO DE CAMAPANAS Y UNA ESTRUENDOSA COHETERÍA, nos anunciará que estamos en el día grande de nuestras Fiestas.

11:30h- RECOGIDA DE REINAS Y DAMAS DE HONOR, a cargo de la Sociedad Musical y Cultural de Algorfa, hasta el Ayuntamiento, una vez allí acompañados de autoridades y Comisión de Fiestas traslado hasta la iglesia.

12:00h- SANTA MISA
En honor a nuestra patrona la Virgen del Carmen.

21:00h-
SOLEMNE Y MAJESTUOSA PROCESION,
Con la imagen de Nuestra Patrona que recorrerá las principales calles de nuestro pueblo, presidida por autoridades, pregonero de fiestas, reinas, damas de honor y comisión de fiestas.
Al finalizar se realizará el disparo de un castillo de fuegos artificiales.

23:30h- NOCHE DE CANCIÓN ESPAÑOLA Y FLAMENCA,
Con la actuación del grupo rociero ALANDRA
Lugar: Plaza de España.

Jueves 17 de julio, DÍA DE LA MORERA

20:00h- XIV MARCHA A PIE,
Recorrido por la calles del casco urbano, camino
San Miguel hasta campo de golf La Finca.
SALIDA desde el Polideportivo Municipal

22:30h- FIESTA DE LA MORERA,
Para despedir las fiestas con música y baile
En la Plaza de España a cargo de PEPICO EL JUSTO.
Ayuntamiento de Algorfa,
Plaza de España,20 03169
Tfn: 965 700 146
Information compiled by:
TOURIST INFO ALICANTE
Avenida Rambla Méndez Núñez, 41 (Torre de la Generalitat),
03002 Alicante
Phone: 965200000
Fax: 965200243
Email: alicante@touristinfo.net
This office does not assume responsibility for sudden changes or variations of the events published on this site.