Moors and Christians in Alcoi, historic celebrations of epic dimensions
Publishing date 11/04/2017
The Moors and Christians festivities in Alcoi, which are held in the honour of Saint George, have been declared International Tourist Asset.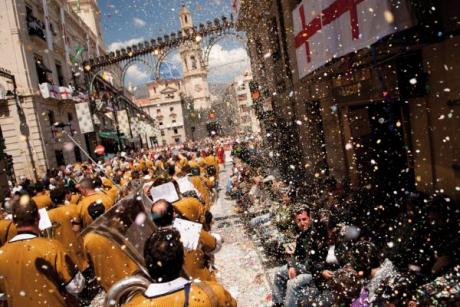 The Moors and Christians festivities in Alcoi, which are held in honour of Saint George, were declared an International Tourist Asset in 1980, and this comes as no surprise. On the day of the Entrance, this town in Alicante returns to the Middle Ages, to the exoticism of the East, to the epic dimensions of a celebration that is unique in all of Spain. These festivities are held from April 21 to 24, so don't make any other plans for those dates!

These festivities commemorate the historical events that took place in 1276, specifically the uprisings by the Muslims who inhabited the area and who gave rise to the patronage of Saint George who, according to legend, appeared on horseback to save the city in a battle in which the Muslim warlord Al-Azraq was slain. In gratitude, the people swore it would build a temple in honour of Saint George and that it would celebrate it with festivities. And it kept its word.

The festivities are divided over three days. On the first day the various Entrances are carried out, in which the sumptuous, colourful attire, the music, the gaudy standards and the flips and pirouettes executed by the band leaders submerge the audience into a realm of fantasy. The second day, which is devoted to the patron Saint George, is a day of devotion, with a number of processions throughout the day in which a child, dressed as a Roman soldier, incarnates the figure of Sant Jordiet ("little Saint George"). This is a lyrical day, followed by the third day, the Alardo (mock fights), which sees the return of skirmishes, blunderbusses and muskets. And once the calm has settled in after the battle, Sant Jordiet appears from the battlements of the castle, closing the festivities until the following year.

Over the course of these days, Alcoi becomes a veritable explosion of colour and revelry, as the city is decked out with pennants bearing the cross of Saint George or the crescent moon. As the bugle calls, processions and Entrances give way to each other, the capture of the castle by the Moors and its reconquest by the Christians is represented. The roll of the drums, the blare of the trumpets, and the volleys of musketry during the battle, the smell of gunpowder and smoke. Epic. An episode of Game of Thrones in live action.