Just like Cava and Turrón (nougat), Tirisiti returns to Alcoy for Christmas
Publishing date 16/12/2013
Christmas is coming and, along with it come Cava, nougat and Tirisiti, who returns to Alcoy as the main protagonist of his own nativity scene, a characteristic theatre of rod and string puppets that has been held in this city for over a century. The Tirisiti Nativity Scene, set in an imaginary Alcoy twenty-one centuries ago, is a participative, musical and fun experience.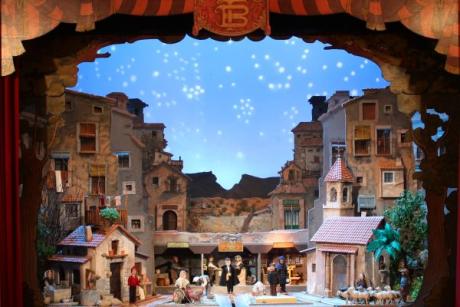 From December 21 to January 5, the Teatro Principal in Alcoy will host the many adventures of a loveable local character called Tirisiti. This puppet nativity scene is the continuation of a long Mediterranean tradition which originated in Alcoy in the early 20th century, when nativity scene maker José Esteve united the three nativity scenes that were held in the city since 1870, focusing the show on a character called Tirisiti.
The play is performed according to the original scripts that have been passed on over generations, and is stands out for being in two languages, with the sacred scenes in the first part in Spanish and the profane scenes in the second part in Valencian.
Come to Alcoy this Christmas and have fun with Tirisiti, you won't regret it!