Alcoy and its Christmas characters
Publishing date 28/12/2015
In Alcoy, Christmas is marked by popular and beloved characters as Tirisiti, the Royal Ambassador and the Three Wise Men, all of whom make the little ones happy. Because in Alcoy Christmas is a different thing.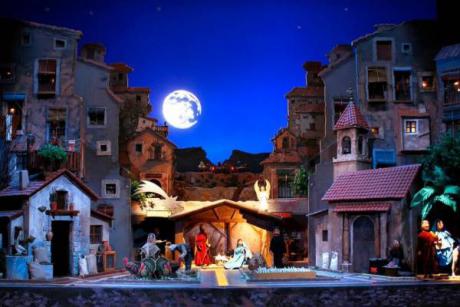 Tirisiti is the first of the characters who mark Christmas celebrations in Alcoy. His crib is a performance made of articulated puppets, which represents Christmas and gather religious and profane elements together, as well as customs, traditions and events belonging to the culture of Alcoy. The action in the performance happens in an imaginary Alcoy, by the time Jesus was born. It takes place every Christmas from the 23rd December until the 5th January and mixes old folklore elements all through the stories of Tirisiti, the main character of the story. The characters from the crib also talk with the audience and sing Christmas carols.

The royal announcement is another outstanding Christmas event in Alcoy and precedes the Twelfth Night Procession, the oldest in all Spain. On the 4th January the Royal Ambassador announces the imminent arrival of Their Majesties Melchor, Gaspar and Baltasar.

Next day, on the 5th January, the Twelfth Night Procession goes through the streets of Alcoy. Riding on camelback and followed by an entourage of about a thousand people, the Three Wise Men give presents, sweets and candies.

Magic and dreams surround Alcoy during the most magical night of the year. Don't hesitate it any longer—come to Alcoy and enjoy a wonderful Christmas time.