Alcoi holds its annual Moors and Christians festival
Publishing date 22/04/2013

Between 20 and 23 April, the streets and squares in Alcoi are turned into an amazing and fun-filled battleground. The Moors and Christians Festival in honour of Sant Jordi transform the town, which is packed with Modernist buildings, into a continual parade of bands, parade groups and pageantry. Are you going to miss out?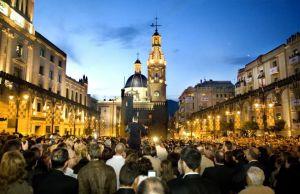 Alcoi is a town with a rich cultural heritage and a firm, enthusiastic commitment to establishing itself as a leading tourist destination. This is a good reason for making the most of this week to go there, as the town holds its Moors and Christians Festival in honour of Sant Jordi from 20 to 23 April, so it's a great time for discovering Alcoi's festive and architectural attractions.
During the Moors and Christians Festival in honour of Sant Jordi, the "filaes", as the festival groups are known, endear themselves to locals and visitors alike, taking over the entire town for a short period of time. Visitors are swept along by the extraordinary atmosphere that pervades the whole of Alcoi while battles between Moors and Christians take place around them.
You can use the hours of waiting between events to explore some of Alcoi's fantastic Modernist buildings. Some fine examples are Casa del Pavo, the Juan Cantó Music and Dance Conservatoire and the old Fire Station. We also suggest you go and admire the grand bridges of María Cristina, San Roque and La Petxina, which over the years have become iconic city sights and symbols for the local community.


The countryside surrounding Alcoi also has much to offer visitors, especially the Parque Natural del Carrascar de la Font Roja nature reserve, the setting for the sanctuary of La Virgen de los Lirios. You could also visit the Parque Natural de la Sierra Mariola nature reserve, a protected area that's well known for the huge quantity of aromatic and medicinal herbs growing there.
Last Sunday, the "filaes", or festival groups, announced the start of their spectacualr parades, which have been declared of International Tourist Interest. The 22nd is wholly given over to Sant Jordi, with the day's main event being the Reliquary Procession, a religious procession involving the leading participants in the Moors and Christians festival in honour of Sant Jordi.  And on 23 April, "Día del Alardo" or Battle Day, the Embassies will be parading through the main streets of Alcoi.
But if you're still ready for more fun, in Banyeres de Mariola (Alicante) they're also holding their Moors and Christians festival in honour of Sant Jordi from 22 to 25 April, another event with National Tourist Interest status.
More information:
TOURIST INFO ALCOI
Plaza de España, 14
Tel: 965537155
Fax: 965537153
E-mail: alcoi@touristinfo.net