Alcalalí in Fiestas
Patronal festivity in Alcalalí in honour to Sant Joan de Mosquera and Cristo de la Salud Saint.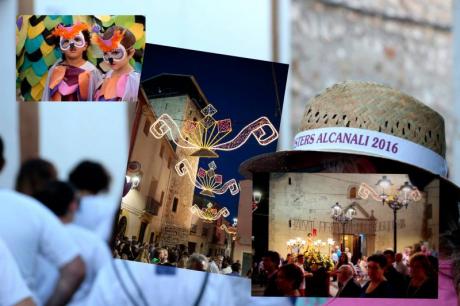 Description:
Programa de fiestas
Dates:

Starts: 23/06/2016
Ends: 03/07/2016
FIESTAS ALCALALI 2016
Thursday 23rd June - DAY OF "ENTRAETA"
13h00 Church bells ring and firecrackers to announce the beginning of the fiestas
20h30 Mass in the small church of "Sant Joanet"
21h00 Street procession accompanied by the Musical group "La Primitiva" from Castells de Castells
21h30 Assembly at the Centro Cívico, of the Festeros, the officials of the Town Hall and Mayors of the surrounding villages.
22h00 Entrance of S. Joanet de Mosquera through "The Ravalet" along with all the officials. On arrival there will be fireworks arranged by the pyrotechnicians BORREDA. Offering of flowers by the children to Sant Joanet.
23h30 Music in "The main square" with a four piece band "ZONA CERO"

Friday 24th June - DAY IN HONOUR OF SANT JOANET DE MOSQUERA
8h00 Wake up call
11h00 Street parade and collection of the officials, accompanied by "La Unión Musical, LA PRIMITIVA", from Castells de Castells
12h00 Mass in honour of S.Joanet de Mosquera. After mass, the town hall, would like to invite all people from the village to join them for a drink and snack in Calle Mayor.
18h00 Street theatre for children of all ages.
21h30 Collection from Centro Civico of Festeros, church volunteers and town hall officials.
22h00 Solemn procession in honour of Sant Joan De Mosquera. On return to the square, there will be fireworks.
24h00 Music in "The main square by "PATO DANIELS"
Saturday 25th Juny - "MAIN DAY" IN HONOUR OF SANTÍSSIM CRIST DE LA SALUT
8h00 Wake up call
11h00 Street parade, collection of the festeros with the children carrying the holy bread, officials of the town hall with "Unió Musical "La Primitiva" de Castell de Castells.
12h00 Traditional blessing of the bread, presentation of the medals to the festeros, followed by Solemn Mass in honour of Santissim Crist de la Salut, sung by the choir of Alcalalí. The festeros and children will go round the village giving the Holy bread to everyone.
18h00 Street hand ball (Pilota)
21h30 Collection from Centro Civico of festeros, church volunteers, this years´ first communion children and officials from the town hall.
22h00 Procession in honour of Santíssim Crist de la Salud. On arrival to the square, there will be fireworks.
23h00 Mascletà nocturna in Av/ Vall del Pop by BORREDA. (Unfortunately, due to strict fire regulations, we are unable to have the Grand Firework display this year)
00h30 Music in the main square by "VERTIGO"
Sunday 26th June THE DAY OF THE DECEASED - FESTA BEATO FCO TOMÁS SERER QUINTOS DAY
8h00 Wake up call
12h00 Mass for the deceased people of Alcalalí.
13h00 Tasting of Anis Candela (The popular local drink) with DJ MATEU
14h00 Giant Paella* in the main square. With Sangria from "Chiringuito de Altea"
19h00 Fancy dress parade, for all ages; Assembling opposite the bank. Accompanied by a steel band, COLP I REPIC. (Prizes for the best dressed)
21h30 "Giant Bocadillo"* in the main square with DJ MATEU.
Monday 27th June - COCA´S DAY
11h00 Children's game, C/ Porxe (till 14:00) Snack will be provided!
17h00 Children's game, C/ Porxe (till19h00)
20h00 Traditional COCÀ* in the main square with wine tasting from CVVP de Xaló. With a three piece band
Friday 1st July NIGHT STREET MARKET
19h00 Organised by Jalon Valley Help
Saturday 2nd July - ROCK NIGHT
21h00 BBQ* in the main square with music (sponsored by Bar La Torre, Bar Porche and Bar Toni). 24h00 Rock night ( Av Vall de Pop) Music show (Main square)
Sunday 3rd July - DIA DE LA TORNADA DE SANT JOANET
19h00 Return of Sant Joan de Mosquera to the small church. Accompanied with "Dolçaina i tabalet". The Festeros would like to invite everybody to an afternoon snack *Tickets for the Giant Paella, BBQ, Bocadillo and cocà can be collected outside the old town hall.
Saturday 11 th June
from 19h00 till 21h00 and
Sunday 12 th
from 19h00 till 21h00 *Tables and chairs will be provided (The festeros reserve the right to change or cancel any of the above)
Information compiled by:
TOURIST INFO VALL DE POP (eng)
Paseo de la Alameda, s/n (Carretera de Alcalalí),
03727 Alicante
Phone: 966481017
Fax: 966481017
Email: valldepop@touristinfo.net
This office does not assume responsibility for sudden changes or variations of the events published on this site.