The Tomato festival
Publishing date 13/10/2014
The Alcalà de Xivert tomato festival takes place this weekend dedicated to the tomata de penjar variety, featuring old craft displays, samples and tasting sessions. Don´t miss your chance to sample this delicious variety.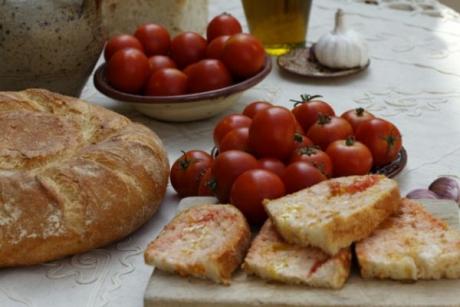 The second edition of the festival of the Alcalà de Xivert, a variety known as the tomata de penjar, will be held on October 18th and 19th in church square and those adjacent to it.
The tomata de penjar is a special variety of tomatoes which is prized by foodies. There will be stalls where you can taste and buy them, along with other products of the region.
Against the backdrop of the bell tower in the church square, a cooking show will take place throughout the festival, featuring different chefs and recipe demonstrations by local associations using this regional produce. The bars and restaurants of the town will also be offering tapas and dishes starring the tomata de penjaras the main ingredient.
The tomata de penjar can be eaten raw or cooked. The most typical and traditional use consists of spreading raw tomato on a piece of bread, accompanied by a little olive oil and salt. It is usually eaten with salad and is perfect for sauces, thanks to abundance of juicy flesh. When grilled, it makes an exquisite accompaniment to meat, fish or vegetable dishes, or an excellent condiment when sautéed for slowed cooked dishes, with paella being the most obvious example.
The tomata de penjarof Alcalà de Xivert has an intense red colour, which acquires once it has been harvested, shortly after being hanged The skin is fine and the flesh is juicy, the flavour intense and sweet, with a slight acidity.