Marzo con Humor
El escritor inglés William M. Thackeray nos dejó la frase "el buen humor, es el mejor traje que puede lucirse en sociedad".
Acérquese a Albatera este mes de marzo a pasar un buen rato y disfrutar de una buena sonrisa.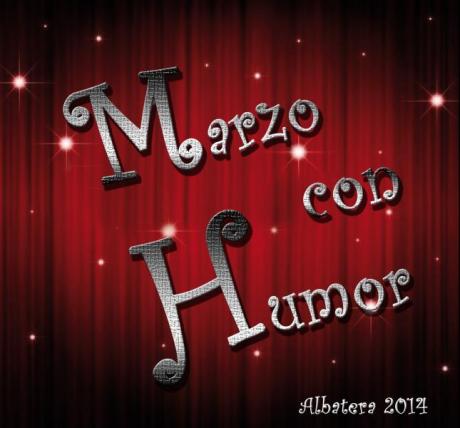 Description:
Actividades culturales
Dates:

Starts: 06/03/2014
Ends: 30/03/2014
Comedia. "DESDE RUSIA CON AMOR"
Tres obras breves del genial escritor y dramaturgo Antón Chéjov, tres comedias que encierran retratos mordaces de sus contemporáneos, más cerca de la farsa que del taro naturalista que tan justa fama le ha proporcionado.
Un romántico y divertido viaje a través de la historia de esta nación transcontinental.
Sábado 8 de marzo. 20.00 horas
Casa de Cultura Miguel Hernández
Exposición. "LEER, REIR, CRECER"
Una exposición que te "enganchará" a la lectura a través del humor, ya que todos y todas reímos. Si reímos con un libro en las manos, la lectura además de un viaje por la imaginación, es más divertida.
A partir del 3 de marzo
Biblioteca Pública Municipal "Fermín Limorte"
Clown. "Miau Marramamiau"
Una vez tuve yo un gato, blanco y rubio. Tan monín... tan chiquitín... se llamaba serafín. Casi siempre se dormía enroscado en un sillón, pero si se subía a un árbol... ¡menudo follón!. Tenía miedo a las alturas, no le gustaban los ratones y en lugar de comer pescado prefería macarrones. Ésto y mucho más os venimos a contar, nuestro gato se ha perdido, ¡lo queremos encontrar!
Viernes 21 de marzo. 18.00 horas
Casa de Cultura Miguel Hernández
Monólogo. LUÍS LARRODERA
Un espectáculo diferente que asegura una hora y media de risas y buen humor. Dibujos animados y series de televisión como nunca las habías visto; canciones como nunca las escuchaste; leyendas urbanas de las que nunca habías oído hablar…o sí…Todo esto y mucho más: en un espectáculo en el que el público es muy importante, y que, estamos seguros, te sorprenderá (para bien, ¡ojo!)
Sábado 22 de marzo. 20.00 horas
Casa de Cultura Miguel Hernández
Teatro Infantil. "EL CARRO DE LOS COMEDIANTES"
Dos cómicos de la legua a los que el rey ha desterrado, encuentran la inspiración en los sueños de una niña embelesada por las historias medievales.
Viernes 28 de marzo. 17.30 horas
Plaza de España
Comedia Musical. "LOLITA, LOLITA"
Desde el primer momento Lolita, enloquece a Revuelta. Faustino es un pintor famoso, al que Revuelta, introduce en el mundo de la noche y las mujeres. Andrea, novia de Faustino, lleva una doble vida. La dulce Angelita, vuelve loco a Faustino. Nadie es lo que aparenta en esta trepidante comedia, llena de millonarias herederas y mucha risa. Cien minutos de diversión asegurada, con 15 personajes a ritmo de charlestón, cha, cha, cha y pasodoble.
Sábado 29 de marzo. 20.00 horas
Casa de Cultura Miguel Hernández
Concierto de Primavera
Interpretado por la Unión Musical La Aurora
Domingo 30 de marzo. 19.00 horas
Casa de Cultura Miguel Hernández
This office does not assume responsibility for sudden changes or variations of the events published on this site.