ACTOS CONMEMORATIVOS DEL DÍA DE LA CONSTITUCIÓN
Ven a Albatera a disfrutar del día de la constitución y podrás ver un pleno encantador pleno infantil, la izada de la Bandera y la arriada de la misma. Va a ser algo muy divertido y no puedes faltar.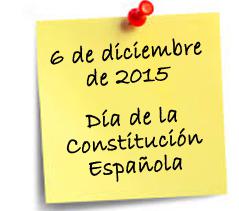 Description:
Actividades de ocio
Type: Otros
Dates:

Starts: 06/12/2015
Ends: 06/12/2015
BANDO
DÑA. ROSA GUILLÉN CANTÓ, ALCALDESA-PRESIDENTA DEL AYUNTAMIENTO DE ALBATERA
HACE SABER:
Que el próximo 6 de diciembre, se va a celebrar el día de la Constitución Española de 1978.
Con motivo de esta conmemoración se procederá al izado de la Bandera Nacional en la Plaza de España a las 11:00 h.
A continuación se celebrará el Pleno Infantil-Juvenil en su XVII edición, en esta ocasión a cargo de los alumnos y alumnas del Colegio Público de Primaria "Virgen del Rosario".
La arriada de la Bandera, se realizará a las 18:00 h.
Esperamos contar con la participación de todas y todos los albaterenses.
En Albatera, noviembre 2015.
This office does not assume responsibility for sudden changes or variations of the events published on this site.