9ª RUTA DEL TAPEO Y 4ª RUTA DEL GINTONIC
Los días 19, 20, 21, 26, 27 y 28 de febrero y 4, 5 y 6 de marzo disfruta en Albatera de la 9ª Ruta del tapeo y 4ª del Gin-tonic.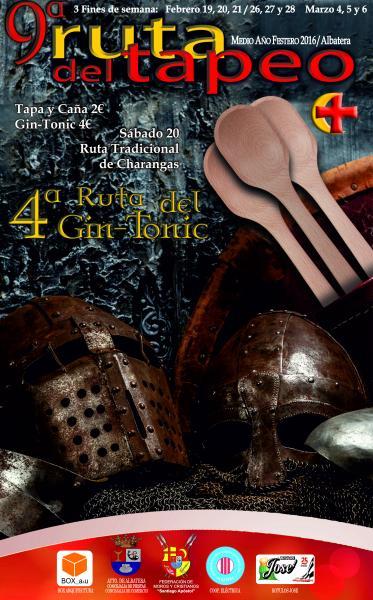 Description:
Actividades de ocio
Type: Gastronomía
Dates:

Starts: 19/02/2016
Ends: 06/03/2016
Durante los dos últimos fines de semana de febrero y el primer fin de semana de marzo se realizará la 9ª Ruta de la Tapa y 4ª Ruta del Gintonic coincidiendo con el Medio Año Festero, con la participación de 21 establecimientos locales.
Este año podrás votar mediante una aplicación para móviles en la que además encontrarás todos los detalles de los locales y las tapas posicionándolos por geolocalización en un mapa. Todos los participantes que emitan voto en al menos diez de los locales de la ruta entrarán en el sorteo de un viaje de un fin de semana para dos personas.
El sábado 20 de febrero será la tradicional ruta de charangas con la participación de todas las comparsas.
Este año, todas las rutas partirán a las 11:00 de la mañana desde el centro histórico, visitando 4 bares cada una, lo que permitirá que el paso por cada uno de ellos, sea con mayor tiempo respecto a ediciones pasadas.
La organización ha buscado que los recorridos fueran similares en longitud, desde el bar de inicio, hasta la llegada a la "calle Ancha" para realizar la tradicional retreta de izado de bandera.
ESTABLECIMIENTOS PARTICIPANTES
- Café Bar La Perla
- Cafe Bar Década
- Bar Veleto
- Bar Las Banderas
- Don Gruñón
- Mubala
- Casa Pepe
- Trivial
- Gelato
- Diamond
- Dublín
- Posada de Llanes
- Casino
- La Garnacha
- Bar Cafetería Choleo
- Café Bar Luna
- Pub Impacto
- El Grano de Oro
- La Terraza
- Pub El Irlandés
- Isis
- The Corner Bar
This office does not assume responsibility for sudden changes or variations of the events published on this site.