Things you cannot miss in San Juan Bonfires
Publishing date 7/06/2017
Valencia is getting ready to welcome the summer with the Bonfires on San Juan night, a festival of ancient origin in which magical rituals intermingle with fire, gunpowder, water and music. The festival of the Bonfires of San Juan is lived intensely on all beaches along the Mediterranean coast; but in Alicante it gets up to Premium category.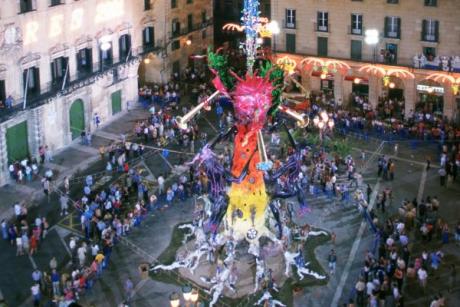 Declared festival of International Tourist Interest and Masterpiece of the Intangible Heritage of Humanity, San Juan's bonfires in Alicante are held from 19th to 24th June. But in this province, we also find some other festivals of Provincial Tourist Interest like those of Sant Vicent del Raspeig and Xàbia.

One of the things you cannot miss during the holidays is a visit to the monuments; you will be captivated by their beauty. Gastronomy is another attraction of these festivals. On the night of 'plantá' (setting up) of the monuments, it is traditional eating 'coca tonyina' and figs or 'bacores' to celebrate the first harvest of the fig tree.
Use your visit to Alicante to get to know the city and its beaches. Walk by the neighborhoods of San Roque and Santa Cruz, visit their rich heritage and cool off in its urban beach, El Postiguet. You will be bewitched by the stunning views of the Castle of Santa Bárbara.

Get ready to have fun with music bands and brass bands, dance with the giants and oversized head figures and vibrate with mascletás which are shot at two in the afternoon.

The grand finale is the 'cremà ' on June 24th at 00:00 hours. All monuments are set on fire to welcome 2017 summer season. We suggest you join the ' Banya ' where attendees ask firefighters to throw water on them to cope with the heat. You will never forget this experience!