Snow White hasn't lost any of her youthful vitality as she celebrates her 75th birthday in Alicante
Publishing date 23/12/2013
It's party time in Alicante, as Snow White's birthday reaches the Cigarreras for a celebration. Three unique artistic versions of the story of the princess and the apple make up a display that will be held in Alicante until January 5th under the title Snow White's 75th Birthday. Snow White is 75 years old now, but she's still as young and beautiful as ever…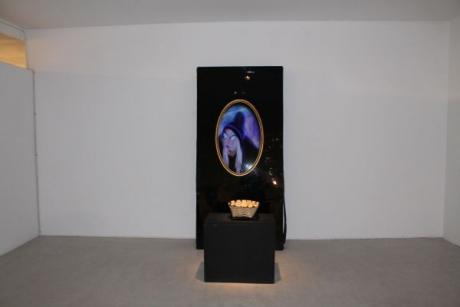 A videogame, Snow White herself and an invitation for participants to bite the apple are the versions of the fairy tale by Inés Parcero, Cecilia Segura and Marta Pina on the year in which Snow White celebrates her 75th birthday.
Sets, photographs, collages, screens, design… and a basket full of apples make up the Snow White's 75th Birthday display, which has been assembled from the winning works in the 3 CMCV project, with which the Museum Consortium invited young artists to carry out creative works based on the fairy tale on the anniversary of Walt Disney's famous feature film adaptation, Snow White and the Seven Dwarfs. Inés Parcero (Biting an apple), Marta Pina (Snow White vs. Margarethe) and Cecilia Segura (Snowy Invaders) are the three big winners in this first edition of the 3 CMCV Project.
In Biting an apple, by Inés Parcero, spectators trigger a visual narration by taking an apple from a basket displayed in the room, which is displayed on a screen (the magical mirror). This is an audio-visual interactive work in which spectators can play with the most nightmarish moments in the film.
Marta Pina presents her compendium, Snow White vs. Margarethe, with which she breathes life into a photographer, an imaginary character who found old pictures and an archive that proved that the young heroine from the classic fairytale could have existed. She uses collage pictures and techniques to present her narration.
Finally, Cecilia Segura, the third contest winner, presents her work, Snowy Invaders, inspired from "Space Invaders", the famous video game designed by T. Nishikado in 1978. The goal of this project is to turn the fairytale into a technological phenomenon. Apart from the "Dwarf Invaders" game, Segura's creation also includes several woollen tapestries.
Project 3 CMCV is a grant programme created by the Museum Consortium to promote and help emerging artists born or residing in the Valencia Region as a way to stimulate the most innovative modern art.