Sempere, Equipo Crónica, Miquel Barceló… all in the MACA
Publishing date 25/08/2014
Works by Eusebio Sempere, Miquel Barceló, Tapiès or the Equipo Crónica, all of them belonging to the collection of Mariano Yera, will be displayed at the Alicante Museum of Modern Art (Museo de Arte Contemporáneo de Alicante, MACA) until September 21st. The collection offers an outstanding overview of Spanish painting in the latter half of the 20th century, offering an insight into the artists and their most significant works. Come and see art in its purest form.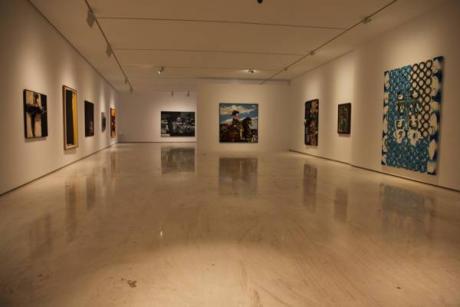 The Collection follows the evolution of art history in Spain, as the main pictorial trends and their foremost authors are all duly represented. It is made up by over 150 top-quality works, all of which express the particular views of each of the sixty-three artists that make up this unique look at Spanish artistic output since the 1950s up to the late 20th century, a period rich in highly relevant works of art.

The works on display are the following: Dona al jardí by Miquel Barceló, Ruth y Booth by Miguel Ángel Campano, Sin tíulo by Equipo 57, El desfile del personaje by Equipo Crónica, Pintura 607 by Luis Feito, Perspectiva elástica by Luis Gordillo, Negro de carbón by José Guerrero, Homenaje a García Seguí by Josep Guinovart, Cuadro 183 by Manuel Miralles, Silius y la noche by Lucio Muñoz, Sydus II by Pablo Palazuelo, Metamorfosis/Expolio by Manuel Rivera, Composición en ocre by Eusebio Sempere, Manta doblada sobre madera by Antoni Tàpies, Vega by Antonio Saura and T-19 Estructura serie triangular by José María Iturralde.