PlayMobil figures conquer the castle of Santa Bárbara in Alicante
Publishing date 18/11/2013
Pirate landings, the peace of seaside resorts, life in the harbour and on the square, scenes from the War of Spanish Succession… a miniature version of the history of Alicante can be seen at the castle of Santa Bárbara, in Alicante, until March 26th, 2014. Come to see figures attacking, resting or watching movies!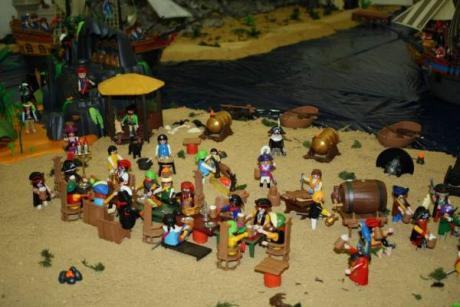 The exposition is made up by fourteen scenes with over a thousand PlayMobil figures and an extra two thousand extra pieces that have been used to re-create the history of the city. The Hogueras festival, the Moros y Cristianos festivities, the setting of a great mine that blew up a part of the castle of Santa Bárbara during the War of Spanish Succession are among the moments re-created in the exposition.
This exposition, meant for children and adults alike, is complemented by movie figures in the Tavern Hall where three mega-dioramas are displayed over a surface of over 200 square metres, with a Wild West scene, a pirate scene and an Egyptian scene.
http://www.castillodesantabarbara.com/