GastroAlicante, a delight in the Costa Blanca
Publishing date 16/02/2015
GastroAlicante is a culinary event in the Fair Institute of Alicante (IFA), from the 21st to the 23rd of February. For the past two years, it has become a true meeting of the foremost representatives of national cuisine. Contests for professionals such as Baking and Gin & Tonics, or those for fans, such as Russian Salads, local flatbread "Cocas" or Broth with meatballs are one of the hallmarks of GastroAlicante. If you want to taste the delights of Costa Blanca capital, come to GastroAlicante and give it a try!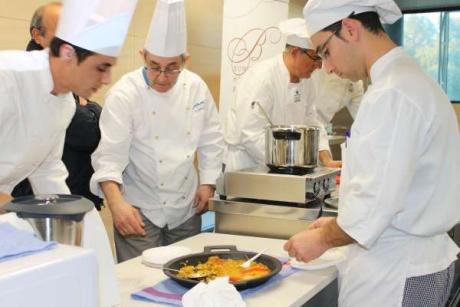 Two spaces, one crowded and full of popular activities, and another by and for professionals make up the entertainment and educational parts of GastroAlicante. The aim of IFA is to create a style and establish GastroAlicante as one of the most important gastronomic events on the international scene.

The popular cooking competitions, which enjoy a high acceptance, are repeated and increased this year. Besides the Provincial Championship of Russian Salads and Broth with meatballs, this year a new contest of the typical flatbread "Cocas" has also been scheduled.

GastroAlicante 2015 gathers together representatives of the Spanish gastronomy from ten provinces. The participation of very great chefs of our region, together with other from Catalonia, the Balearic Islands, Murcia and Andalusia, will turn GastroAlicante 2015 into a true meeting point of the Spanish Mediterranean cuisines, with representation also from Galicia, Madrid and Castilla La Mancha.

Over seventy cooks of Spanish cuisine, which all together represent more than twenty Michelin stars, reveal the secrets of their art in GastroAlicante 2015. Some of the star chefs appearing in the program are Manuel Alonso (Casa Manolo, Daimús-Valencia), Jorge Andres (Vertical, Valencia), Luis Arevalo (Kena, Madrid), Miguel Barrera (Cal Paradis, Vall d'Alba - Castellón), Ricard Camarena (Ricard Camarena Restaurant, Valencia), Estanis Carenzo (Sudestada, Madrid), Fernando del Cerro (Casa Jose, Aranjuez), Alberto Ferruz (Bon Amb, Jávea), José Carlos Fuentes (Tierra, Torrico-Toledo) Pablo González (La Cabaña Buenavista, Murcia), Bernd Knoller (Riff, Valencia), Kiko Moya (L'Escaleta, Cocentaina), Jorge Muñoz (Pakta, Barcelona), Javier Olleros (Cúller de Pau, A Coruña), Roberto Ruiz (Punto MX, Madrid) and Antonio Villaescusa (La Sucursal, Valencia).

The lectures and cooking demonstrations in the Central Stage and Amstel Studio Kitchen revolve around issues like Your Excellency, the humble fish; Passion for vegetables; The fascination of mixing; Pastries, from bakery to restaurant or Finger food, the pleasure of eating without cutlery. The great culinary jewel of the province of Alicante has its place at the Rice Classroom, with ongoing workshops every evening by leading specialists such as Nou Manolin (Alicante), Hogar del Pescador (Villajoyosa), Vinícolas by Raúl Aleixandre (Valencia) or La Peña (El Campello).

Another of the core topics which deserves specific mention is the Women Cooks Summit. With it, the event gives continuity, as it did in 2014, to an initiative that prominent women chefs and opinion leader in the province began to celebrate a few years ago with colleagues from all over Spain. On this occasion, the great ladies of the provincial cuisine -Susi Díaz, María José San Román and María Carmen Vélez will have two exceptional guests: Macarena de Castro (Jardín, Mallorca) and Ana Jimenez (Can Dani, Formentera), each with a Michelin star. All of them will give their lectures on the morning of Monday, February 23rd.

Competitions are one of the hallmarks of GastroAlicante since it was born and this year they have renewed their role. Along with the competitions for professionals, i.e. Baking and Gin&Tonic, and for fans, including Russian Salad and Broth with meatball, which were so popular in 2014, two more contests will be hold: a Popular Competition of Cocas (local flatbread) and a competition of Haute Creative Cuisine that revolves around the wild Bluefin Tuna caught with netting fence, sponsored by Gadira Productos de Almadraba.

Also new are the workshops for foodie kids, called "Pequefoodies", where the gourmets of tomorrow will have fun learning to prepare pastries and decorate cakes, while their parents can relax and enjoy the wide gastronomic offer of GastroAlicante.

A unique proposal of GastroAlicante 2015 is the exclusive Krug champagne tasting led by David Rabasa (Ricard Camarena Restaurant, Valencia), Alberto Redrado (L'Escaleta, Cocentaina) and other great figures of the national sommelier art. And yet another culinary proposal is that of Andrés García, the prestigious cheese tuner from Ibi, who offers an exclusive tasting of twelve chosen global specialties of a genuinely gourmet product, cheese. Come and feel the aromas, flavors and the unique characteristics of twelve great cheeses of the world, commented by one of the most renowned specialists in Spain.

Cheese, cava, champagne, Russian salads, broth, wine ... a bit of everything and for everyone in GastroAlicante. Yummy!