Eberhard Schlotter at the fish market in Alicante
Publishing date 10/02/2014
Painter and engraver Eberhard Schlotter, who has been living in Altea for half a century, displays seventy of his works from the past 20 years at the exposition hall in the Alicante fish market. Hurry up, it will be there until February 16.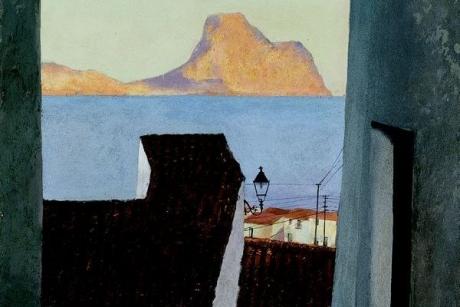 German-born artist Eberhard Schlotter, 93, who has been living in this province since 1956, will be hanging up about sixty of his works in the fish market hall in Alicante as a selection of his best achievements over the past 20 years under the title Eberhard Schlotter, the background of his recent works.

His characteristic oil paintings, executed with a technique of his own in which he adds sand to the canvas, as well as his watercolors, drawings and engravings, make up the exposition.

Despite his old age, Schlotter still works at his studio in Altea, as his daughter Sibylle explains. There, he writes texts, paints and continues to delight in the landscapes and light of the province of Alicante.

Schlotter's work has had an international transcendence, especially in what concerns the mastery of his engravings. The works he displays to the public in the fish market are divided into two parts: the first contains themes from Alicante and its province, where he collects characters and landscapes; the second hosts works he carried out during his trip to Peru, where he moved years ago to overcome his grief over the passing of his wife.

Furthermore, it is worth keeping in mind that Schlotter is the author of the 160 coloured acid etchings to illustrate Don Quixote by Cervantes, collaborating with Nobel prize winner Camilo José Cela, who was in charge of the texts.