Cooks, pastry chefs, winemakers… the image of the cooking of Alicante
Publishing date 30/12/2013
The who's who of cooking in Alicante has got both answers and faces. The Alicante: The Food & Wine Graph exposition, by V. Crown, shows the faces of those who turn grapes into sublime wines, those who create culinary magic from fishing, agricultural and livestock, or those who turn chocolate, butter and sugar into sweet remembrances. Come and discover the people behind the miraculous cooking from Alicante until January 10.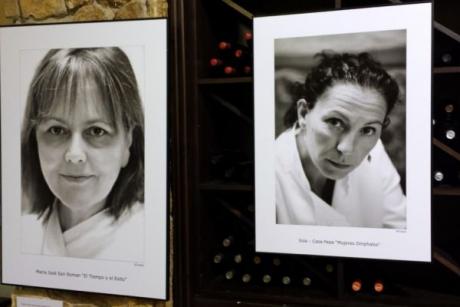 The Alicante School of Tasting, at Capitán Segarra street, 51 hosts the display of 53 photographs, most of them in black and white, of 37 cooks, pastry chefs and winemakers from Alicante and its surroundings. This exposition has managed to unite and reunite most of the best producers in the province who contribute to its renown thanks to their products.
Alicante: The Food &Wine Graph. Creadores de Mundos, by V. Crown, is the title of this photographic exposition in which photographer Vicente Corona, alias Vicente Crown, has focused his lenses on the nine cooks from the province of Alicante who have obtained Michelin stars, as well as some of the best cooks, winemakers and pastry chefs from the land.
Agustín C. Piqueres was in charge of giving a title to each character and to write a description for each one of them after having met them. Hours of conversation and familiarity with Miquel Ruiz, Joaquín Arias, Quique Dacosta, Susi Díaz, Paco Torreblanca, J. Manuel Varó, Jesús Muñoz, Luis Elias, Kiko Moya, M. J. Samper, Dani Frías, David Bernardo, Pepe Mendoza, José María García, Rafa Bernabé, Carlos Bosch, Sergio Sierra, Rubén Álvarez, Juan Cascant, Salvador Poveda, Rafa Soler, Gutiérrez de la Vega, Séphane Point, Bruno Prats, Alfonso Egea, Mª Carmen Vélez, Soledad Ballester, Pepa Romana, Antonia Ballester, Juan Carlos López de la Calle, Carlos López de la Calle, Juan José y Miguel Pérez Mejías, Vicente Castelló, Mª José San Román, Alberto Ferruz Moraleda and José Antonio Selléscon have yielded this exposition.