Conciertazo Amstel Concert - Hogueras 2015
Publishing date 8/06/2015
Conciertazo Amstel returns to the city of Alicante, as a prelude to Hogueras, the most anticipated fiesta by the people of Alicante. Thus, on June 12 and 13, anyone who comes to Alicante, will enjoy a huge concert bringing together the major national rock bands together with the "All Star Band", the band created by Amstel.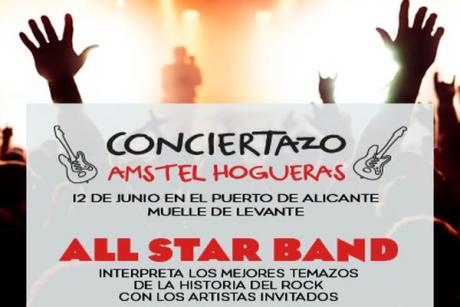 Hogueras 2015, the famous Alicante fire festivity taking place in june (Hogueras means "bonfires"), is just around the corner. And so, the Conciertazo Amstel concert comes back, as a prelude to the most anticipated fiesta in Alicante.

The Plaza de Toros in Alicante will host, on Friday, June 12 the Conciertazo Amstel Hogueras 2015 concert, which this year returns to Alicante with all the big names of the Spanish rock scene, as well as the "All Star Band", the band created by Amstel joining five of the best studio musicians in Spain. Aurora Beltrán (Tahúres Zurdos), Ruben Pozo (ex Pereza), Serpa (ex Barón Rojo), Alejo Stivel (Tequila), Carlos Escobedo (Saber) y Pau (Ushuaia), will sing the best rock songs of all time.

On Saturday, June 13 the music shall continue playing in the concerts performed by Mailers and Celtas Cortos.

An invitation is needed to access the shows, which you can get gathering Amstel labels in bars and restaurants, through product packs in supermarkets, or by the contest Amstel has prepared in the social networks.