The Bonfires of Sant Joan, the festivities of fire begin in Alicante
Publishing date 16/06/2014
Alicante celebrates the arrival of summer with fire, the purifying fire of the Bonfires of Sant Joan. Alicante undergoes a transformation for several days, becoming a city captured by music, mirth, monuments and gunpowder... the festivities of fire reach Alicante in the most anticipated event in the year for the locals, throughout which they can rest and celebrate. Come over to the capital of the Costa Blanca and enjoy the festivities that mark the beginning of summer.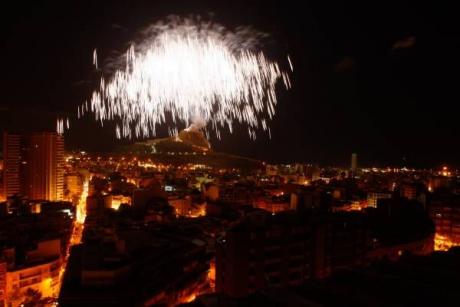 Alicantecommemorates the arrival of summer with the Bonfires of Sant Joan, festivities that are lived by thousands of people in the streets among music, gunpowder, fire and joy and which originated as a celebration of the coming season. The festivities became formally constituted in 1928, and, since then, Alicante has been celebrating this grandiose homage to fire, the main attractions of which are the belleas del foc and les fogueres, genuine works of ephemeral art, works carried out with papier-mache and wooden statues that are burnt on the night of the feast day of Saint John.
The festivities begin officially with the plantà of the bonfires, which are often constructed to represent satirical themes, filling the streets of Alicante with wit and good humour. This is also the day when the barracas, where popular celebrations are held and the typical brevas and cocas, traditional pasties with tuna fish, onions and pine nuts,are eaten. The most representative events of the festivities include the Entry of the Bands and Committees, with their belleas and ladies of honour, dressed in traditional costumes, as well as the offering of flowers to the patron saint of the city, the Virgen del Remedio, on June 21 and 22.
Every day, at two in the afternoon, from June 19 to 24, mascletàs, rhythmic and loud pyrotechnical displays, are fired at the Luceros square.
The festivities continue until midnight on June 24, at which moment the cremà, the highest point in the celebrations, is held. After the launching of an extraordinary bouquet of white fireworks, the bonfires throughout the city are burnt amongst joy, singing and dancing whilst the firemen throw water on the participants in what is known as the banyá.
Furthermore, if you enjoy fire festivities, you have more options available to you, as on the night of San Juan, on June 23, nearly all beaches in the Valencia Region light bonfires that coincide with the summer solstice. A pagan celebration that welcomes the summer, burning away the evils of the previous year, spreading wishes, jumping over the bonfire and dipping into the sea. An entire ritual meant to bring good luck.
In Alicante, everything ends with the fire where it will be reborn, after waiting one more year.