Alicante smells of gunpowder
Publishing date 15/06/2015
Alicante is a synonymous with fiesta and fireworks, art and tradition. Its most important and representative festival, Las Hogueras de San Juan or Midsummer Bonfires, which is celebrated in June, 20 to 24 , will bring you closer to the world and magic of turning flames into art.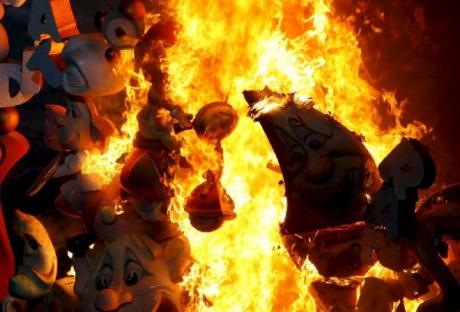 For four consecutive days, the streets of Alicante are filled with music and parades, while joy permeates everywhere. The Midsummer Bonfires, celebrated to honor the holy patron of Alicante, Saint John, are spectacular and gigantic effigies made of wood and cardboard, that are installed throughout the city and then burned on June, 24. Before the astonished sight of thousands of spectators, the artistic work of a whole year burns within minutes to celebrate the summer solstice.

The festival includes events such as the "Mascletàs" (impressive fireworks competition held between June 18 and 24 in the Plaza de los Luceros at 2:00 am), the Proclamation, the 'Planting', the Cavalcade of Ninots, and street parades. One of the most remarkable events is the offering of flowers to the Virgen del Remedio, Our Lady of El Remedio.

During the celebrations, one can breath a different atmosphere in the city. The smell and sound of firecrackers, the ornaments of the streets, and the music of the bands make both inhabitants and visitors feel the joy of the fiesta. Do not miss it, you will just love it!