10th Alicante Film Festival
Publishing date 27/05/2013
This weekend we invite you to see stars of the silver screen! We suggest you visit the city of Alicante and get a close-up view of the tenth Alicante Film Festival. The organisers are expecting a glittering red carpet turnout, with at least thirty Spanish film stars planning be there on the night. Come and be part of the Festival, where dozens of short and feature-length films plus film workshops are ready and waiting for you!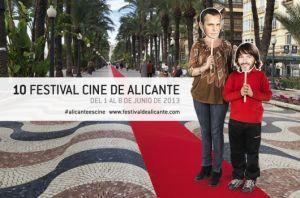 The Alicante Film Festival is now in its tenth year and is celebrating in the company of many of the award-winning actors from previous years to thank them for their support while the event was still in its infancy. The festival organisers are preparing the red carpet parade, with at least thirty leading Spanish film stars confirming they plan to attend both the gala opening night on 1 June in the ADDA and the closing ceremony on 8 June in the Aula de Cultura Caja Mediterráneo.
On Sunday 2 June at 12 noon, there will be a concert of film music, open to the general public and free of charge.
Plus, all through next week, from 3 to 7 June, a series of activities related to the film world will be taking place. The programme includes screenings of short films, full-length feature films, workshops and much more. The spotlight is on Alicante as it becomes a focal point for Spanish and foreign film making, attracting many of today's leading actors and directors.
Programa Festival de Cine de Alicante 2013
Venta de entradas Galas inaugural y Clausura
TOURIST INFO ALICANTE
Avenida Rambla de Méndez Núñez, 41
03002 Alicante
Tel: 965200000
Email: alicante@touristinfo.net