VI Cross Serra Grossa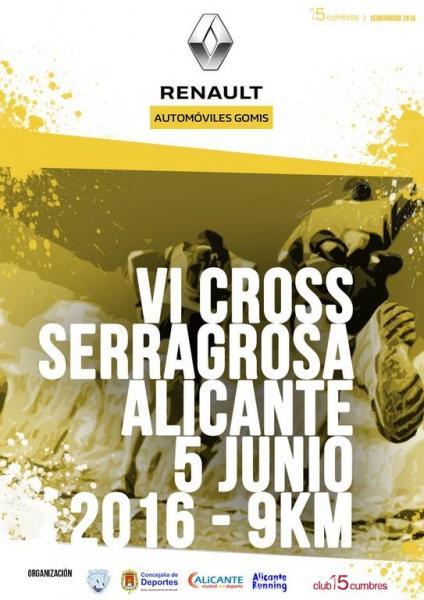 Description:
Actividades de ocio
Type: Deportes
Dates:

Starts: 05/06/2016
Ends: 05/06/2016
VI CROSS SERRAGROSSA ALICANTE 2016
Fecha: 5 de junio
Hora: 09:30 h.
Lugar: Avenida de Denia, 98, 03015 Alicante

El domingo día 5 de junio, tendrá lugar el el "VI Cross Serragrossa Alicante 2016", que es la cuarta prueba de las siete que componen el calendario de la III Liga Alicante Cross Series, CIRCUITO DE CROSS, organizado por la Concejalía de Deportes del Ayuntamiento de Alicante y el Club 15 Cumbres, patrocinado por: Running team, El refugio, Opticalia Espinosa, Mercalicante y que cuenta con la colaboración de: Colegio Jesuitas, Automóviles Gomis, Clinica Vistahermosa, Gluco Sport, Tintorería Masip, Salomon, Antropovisión, Coca-Cola, Aludium, Deportes Sanba, Epersonal Alicante, Katagorri, "topo gigio", Made in Mountain, Más que Sonido, Foodwagen, SeriGrafic , Club nativos, Physiokit, Cosmopolitan.

Inscripciones:
La inscripción se realizará a través de la página web: http://www.15cumbres.com/ o físicamente en las tiendas oficiales del circuito:
- Running Team – Deportes Sanba: C/ Colon 21, Alicante
- El Refugio deportes de montaña: C/ Juan de Herrera 35, Alicante

El precio de la inscripción será de:
- 12 € con camiseta técnica (hasta el 29 de mayo a las 23:59 h).
- 10 € sin bolsa corredor (hasta el 2 de junio a las 23:59 h).

Las inscripciones, permanecerán abiertas hasta el día 2 de junio a las 23:59 horas.
La recogida de dorsales se realizará el mismo día de la carrera de 8:15 a 9:15 horas, siendo imprescindible presentar el DNI.
El cross tendrá su salida en el Colegio Jesuitas Alicante (Frente a clínica Vistahermosa) a las 09:30 horas, para todas las categorías. La meta se cerrará a las 11:30 horas. La entrega de trofeos y el sorteo de material deportivo, está prevista a las 12:30 horas.
Categorías:

a) Corredores:
Juvenil de 16 a 19 años.
Senior de 20 a 34 años.
Veterano A de 35 a 39 años.
Veterano B de 40 a 44 años.
Veterano C de 45 a 49 años.
Veterano D de 50 a 54 años.
Veterano E de 55 a 59 años.
Veterano F a partir de 60 años.
b) Senderistas: Acompañados por sus padres a partir de 8 años. Esta modalidad no es competitiva.
Todas las edades indicadas son cumplidas en el año de referencia.
c) Equipos:
Masculino: estará formado como mínimo por 5 atletas.
Femenino: estará formado como mínimo por 3 atletas.
Desde la Concejalía de Deportes queremos animar a todos los senderistas y corredores a que participen en este III Circuito de Cross que organizamos, con la Dirección Técnica del Club de montaña 15 Cumbres.
Toda la información se podrá consultar en: http://www.circuitocrossalicante.com/serragrossa/index.aspEqu
Información complementaria:
Recorrido: http://circuitocrossalicante.com/serragrossa/descargas/Serragrosarecorrido.jpg
Ayuntamiento de Alicante
Plaza del Ayuntamiento, 1 03002 Alicante
Telf. 965 14 91 00
Information compiled by:
TOURIST INFO ALICANTE
Avenida Rambla Méndez Núñez, 41 (Torre de la Generalitat),
03002 Alicante
Phone: 965200000
Fax: 965200243
Email: alicante@touristinfo.net
This office does not assume responsibility for sudden changes or variations of the events published on this site.