V Cross Serragrossa Alicante 2015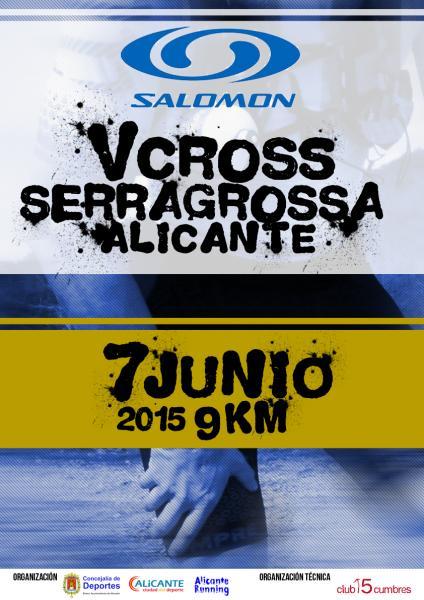 Description:
Actividades de ocio
Type: Deportes
Dates:

Starts: 07/06/2015
Ends: 07/06/2015
Lugar
Colegio Jesuitas Alicante (Frente a clínica Vistahermosa)
Fecha
Domingo 7 de Junio 2015
08:15h a 09:15h. Recogida de dorsales. IMPRESCINDIBLE DNI.
09:30h. Salida de la carrera para todas las categorías.
10:30h. Entrega de trofeos del evento.
11:30h. Cierre del control de meta.
Categorías
Corredores:
- Juvenil de 16 a 19 años.
- Senior de 20 a 34 años.
- Veterano A de 35 a 39 años.
- Veterano B de 40 a 44 años.
- Veterano C de 45 a 49 años.
- Veterano D de 50 a 54 años.
- Veterano E de 55 a 59 años.
- Veterano F a partir de 60 años.
- Senderistas: Acompañados por sus padres a partir de 8 años. Esta modalidad no es competitiva.
Todas las edades indicadas son cumplidas en el año de referencia.
Equipos
Equipo masculino formado como mínimo por 5 atletas.
Equipo femenino formado como mínimo por 3 atletas.
Recorrido
Recorrido por unas de las zonas más bonitas de nuestra ciudad Alicante, Serragrossa. Salimos desde el colegio Jesuitas de Alicante y en pocos metros nos adentramos en una arbolada y zona rocosa con vistas a nuestra ciudad. Poco a poco nos iremos adentrando por una sucesión de trialeras de dificultad moderada mientras podemos observar nuestras increíbles playas justo por debajo nuestra. Transcurre la carrera por una zona cercana a la conocida Cantera, que en la actualidad alberga una vegetación y una fauna propias del monte bajo mediterráneo. Correremos por unas montañas con vistas increíbles hacia nuestro mar mediterráneo desde donde se puede observar toda la playa del Postiguet y nuestra ciudad desde lo más alto, todo un lujo.
Desde el día de la prueba, seguro que será incorporada en los circuitos de entrenamiento de los amantes de las carreras por montes alicantinos.
La carrera, en términos generales, es moderada y con tramos técnicos, pero seguro en la que seguro disfrutaremos todos juntos de un fantástico día.
Correremos por algunos tramos técnicos descubriendo rincones de este entorno que no pensábamos que estarían tan cerca de la urbe.
Distancia: 9 Km. Altura Máxima: 228 m. Desnivel acumulado: 358 m
Extracto de las normas
Todo corredor que sea alcanzado por otro, que le pida paso, tiene la obligación de facilitar el adelantamiento.
Señalización y controles
Todo el recorrido está señalizado con cinta de plástico, siendo obligatorio el paso por los controles establecidos por la organización.
Avituallamientos
En el recorrido hay 1 avituallamiento líquido.
Quedará descalificado todo aquel que no cumpla el reglamento, no complete la totalidad del recorrido, no lleve el dorsal en el pecho, sin doblar, o no atienda a las indicaciones de la organización y jueces.
Todo participante está obligado a socorrer a un accidentado.
La prueba se desarrolla en un paraje natural, por la cual, será obligatorio para todos preservar el entorno.
El abandono de desperdicios fuera de las zonas de control supondrá la descalificación.
Inscripciones
La inscripción se realizará a través de la página web de CRONOTAG o también las podéis adquirir físicamente en las tiendas oficiales del circuito:
- Running Team – Samba, C/ Colon, 21, Alicante
- El Refugio deportes de montaña, C/ Juan de Herrera, 35, Alicante
Se regirá por el reglamento de Liga Alicante Cross Series.
El plazo finaliza el día 4 de Junio a las 23:59 horas.
El precio de la inscripción será de:
- 12 € con camiseta técnica. (Hasta el 31 de Mayo a las 23:00 h).
- 10 € sin bolsa corredor. (Hasta el 4 de Junio a las 23:00 h).
Más información: http://www.circuitocrossalicante.com/serragrossa/index.asp
QUINCE CUMBRES
www.15cumbres.com o info@15cumbres.com
Tlfno. 618.686.111
Information compiled by:
TOURIST INFO ALICANTE
Avenida Rambla Méndez Núñez, 41 (Torre de la Generalitat),
03002 Alicante
Phone: 965200000
Fax: 965200243
Email: alicante@touristinfo.net
This office does not assume responsibility for sudden changes or variations of the events published on this site.