Noche en blanco Alicante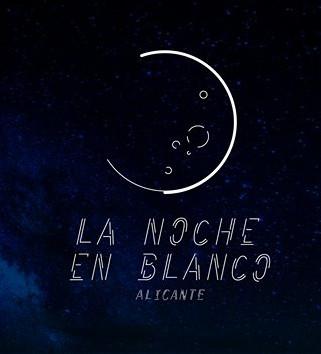 Description:
Actividades culturales
Dates:

Starts: 22/07/2016
Ends: 22/07/2016
La noche en blanco. Viernes 22 de julio
Lonja del pescado.
Visitas guiadas a las exposiciones
21:00h. Pepe Blanco. Color y geometría. Con pilar Tébar, comisaria.
21:45h. II Encuentro Internacional de Arte Mediterráneo de Alicante. Encuentro con los artistas
22:30h. II Concurso internacional de Fotografía. Los artistas nos presentan su obra.
Pequeños artistas
¿Cómo ves tú la Lonja?
Si tienes entre 6 y 12 años, pinta o fotografía la lonja y sus alrededores y trae tu obra el mismo dia 22 hasta las 22:30h. De entre todas las obras presentadas seleccionaremos (a las 22:30) la mejor pintura y la mejor fotografía y los "pequeños artistas" recibirá un obsequio como premio.
Club fotográfico
Stand de información y consulta sobre fotografía y equipos.
Almapauser. Los clásicos en vivo
21:00h. Música en directo frente al mar.
MACA. Museo de Arte Contemporáneo.
19:00-19:30h. presentación del libro "la historia en forma de patatos" y proyección de dos cortos // lugar: october press.
20:00h. presentación "EL ANILLO DEL MAR". Imágenes en off del proyecto: tiempo en 8 de Mar Solis // lugar: SANTAMACA
20:30h. xerigraph, seri en directo y música. Taller de estampación de serigrafías a cargo de OCTOBER Press en colaboración con el MACA// lugar: Plaza de Santa María
21:30h. Performance "tiempo en 8" de Mar Solís // lugar: MACA
22:00h. "bailando medusas". Instalación de Norma Gil. Danza de Asun Noales. Otradanza // lugar: SANTAMACA.
22:30-23:30h. "con soporte BLANCO". Acercamiento interdisciplinario en torno al color blanco. Idea de Esther García Guixot. Extrarradio y música de THE REAL CHESHIRE CAT. Actividad familiar // Lugar: MACA
23:00-00:00h. Proyección en escaparate de imágenes de exposición Fernando Sinaga, La vida dañada // Lugar: galería Aural
23:30h. performance "tiempo en 8" de Mar Solís // Lugar: MACA
23:45-00:30h. música electrónica, techno y ambient por THE REAL CHESHIRE CAT //Lugar: MACA.
00:00h. Proyección nocturna CREMA ESTUDIO Colectivo de Diseño // Lugar: fachada calle Villavieja.
00:30h.Performance "tiempo en 8" de Mar Solís 77 Lugar: MACA
Centro Cultural Las Cigarreras
22h
Música para el silencio
Cine mudo y música en vivo
Concierto de la Banda Sinfonica Municipal
Director: José Vicente Diaz
Cine mudo hecho por magos
1ª Parte:
El gran truco del cine
"Escamoteo de una dama" (1986) Georges Melies.
"Les cartes vivantes" Georges Melies.
GOYESCAS (1916)... intermedio... E.Granados (1867-1916)
"Les kiriki, acróbatas japoneses"(1907.Segundo de Chomón.
"Les Papillons Japonais" (1908). Segundo de Chomón.
SHANGAI.....Ob Asiática…. O.Navarro
2ª Parte:
Evolución dramatica
"La Mansion Encantada" Segunde de Chomón.
DANZA MACABRA…… C. Saint-Saens.
"Le voyage sur Jupiter" Segundo de Chomón
AQUARIUM……. J. de Meij
"viaje a la luna"(1902). Georges Melies.
DANZA Nº5 ANDALUZA………E.Granados.
APOO……. Didier Favre.
MUBAG
De 20:00h a 01:00h. Homenaje a la Noche en Blanco. Muestra fotográfica que consistirá en proyectar las imágenes que nuestros visitantes se realicen en la fachada y planta baja del museo, suban a Instagram con #Mubagenblanco y etiqueten al @museomubag. Actividad libre. Planta Baja.
De 20:00h a 01:00h. La Noche estrellada. Los/as Niños/as crearán estrellas, lunas, nubes, elementos propios del cielo y de la noche, que iremos colocando en la escalera principal del museo a modo de instalación. Actividad libre. Planta Baja.
De 22:00h a 23:00h. Música en planta baja. Concierto de piano interpretado por Benjamin Sun. Entrada libre, limitada al aforo del local. Planta Baja.
A las 23:00h y a las 24:00h. Visita teatralizada especial de Noche a la exposición EL SIGLO XIX EN EL MUBAG. De la formación a la plenitud de un artista. Retrocederéis en el tiempo y visitaréis la muestra a media luz. Plazas limitadas. Inscripción previa en 96 514 67 80.
Lonja del Pescado.
Av. del Almirante Julio Guillén Tato, 0, 03001 Alicante, Alacant.
Teléfono: 965 92 20 18
MACA.
Plaza Sta. María, 3, 03002 Alicante, Alacant
Teléfono: 965 21 31 56
Centro Cultural Las Cigarreras.
Calle San Carlos, 78, 03013 Alicante, Alacant
Teléfono: 965 20 66 74
MUBAG.
Carrer Gravina, 13-15, 03002 Alacant, Alicante
teléfono:965 14 67 80
MARQ.
Placa Dr. Gómez Ulla, 0, 03001 Alacant, Alicante
Teléfono:965 14 90 00
Information compiled by:
TOURIST INFO ALICANTE
Avenida Rambla Méndez Núñez, 41 (Torre de la Generalitat),
03002 Alicante
Phone: 965200000
Fax: 965200243
Email: alicante@touristinfo.net
This office does not assume responsibility for sudden changes or variations of the events published on this site.