Navidades Sangrientas. XI Festival de Cine de Terror en Alicante 2013
Navidades Sangrientas nació a finales de 1999 como resultado de una serie de fiestas que se organizaron durante todo el año. En esas fiestas se pasaban cortos y películas gore y viendo los resultados obtenidos, pues la afluencia era bastante grande, se decidió realizar un festival con más nivel. Se decidió que las mejores fechas para realizarlo, serían a finales de año, cuando ya no hubiese ningún otro festival a la vista. Fue por ello que se denominó, al festival, Navidades Sangrientas, ya que concurriría durante las fechas señaladas. Tras el éxito de la primera edición se decidió continuar con el festival. Hasta nuestras fechas, Navidades Sangrientas es ya una muestra de cine tremendo consolidada en nuestro país y apoyada y avalada por muchos colectivos y aficionados. En el 2009 (y tras 6 ediciones y cerca de 5000 asistentes) navidades sangrientas, cambia de actitud y nombre, dando paso a una nueva evolución: LA WEEKEND HORROR PARTY.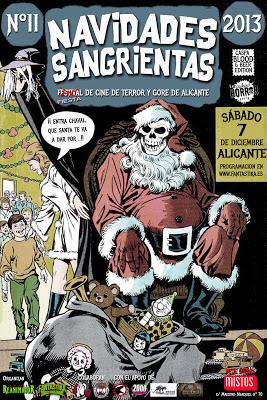 Description:
Actividades de ocio
Type: Navidad
Dates:

Starts: 06/12/2013
Ends: 07/12/2013
Viernes 6 de diciembre
18.30h; Zombie Kids
21h: Zombie Walk
Salida desde el Claustro (Casco Antiguo)
Maquillaje de 17 a 20h:
Podrás elegir entre :
Zombie Crisis Master Class - Maquillate tú mismo, clase impartida por Zombie Quino.
Zombie Gold - Maquillaje express profesional Gratuito con Lorena Yago y su equipo para los 100 primeros.
Zombie De Luxe - Maquillaje Profesional por 5 €
Sábado 7 de diciembre
De 11 a 23h: Expoterror
Sesión Matinal
Entrada gratuita. Limitada al aforo del local
Recomendaciones, traer cojines. La sala de proyección es limitada
11.30h: The Word Eaters
13h: Concurso de Cortos Tremendos
14h: Proyección de la película Thanatomorphose
17h: Zombie Master Class con Julian Lara
18.30h: Sección Alicante Fantástica.
Concurso de Cortos Alicantinos
20h: Especial. Su editor Manuel Valencia nos presentara el nuevo número del 2000 maniacos
20.30h: Sección Oficial de Cortos.concurso oficial
22.30h: Entrega de preimios y clausura.
23h: Fiesta de Clausura en Pub Tributo
This office does not assume responsibility for sudden changes or variations of the events published on this site.