Festival Flamenco Mediterráneo Alicante 2017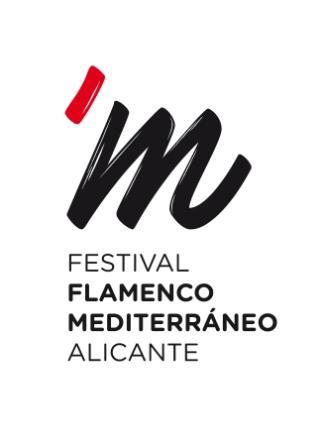 Description:
Actividades culturales
Dates:

Starts: 20/10/2017
Ends: 24/11/2017
20 DE OCTUBRE
Dani de Morón
El grupo representa a las familias más flamencas y genuinas de la Bulería de Jerez. Por un lado La familia de Los Zambos representados por Joaquín Fernández Soto. Las hermanas Coral y Ana de los Reyes que a su vez son hermanas de "Pelé", Vocalista famoso del grupo "Navajita Plateá". Todos ellos representan dos de las sagas más auténticas del barrio De Santiago.
Por otro lado Eva y Domingo Rubichi junto a José Carpio " Mijita", Fernando Jiménez y Juan Garrido forman parte del sello más diferenciador del barrio de La Plazuela.
HORA: 20.30H
21 DE OCTUBRE
Master Class - Patricia Guerrero "Tango".
HORA: 09.30H
27 DE OCTUBRE
"Jerez de Bulería en Bulería" Grupo Jerez Flamenco Internacional"
Dirigido artÌsticamente por Juan Garrido, este espectáculo representa fundamentalmente las Bulerías de Jerez. La Bulería es el ritmo, palo o estilo más festero o alegre de los palos del flamenco donde el baile también toma su protagonismo. Es una puesta en escena de un sonido exclusivo y diferenciado con denominación de origen que tiene lugar en esta zona. En Jerez. Un sonido, ritmo y compás que se transmite oralmente de padres a hijos y que se diferencia del resto. Que no es mejor ni peor sólo diferente y es motivo de atracción en todas las partes del mundo cuando la conocen. En este espectáculo además se podrá vivir los estilos diferentes dentro de la Bulería. Nos referimos a los estilos que aún siendo Bulería se diferencian en los barrios de La Plazuela y Santiago porque hay representación de los dos barrios más significativos del Jerez más Flamenco. En el espectáculo participarán 8 artistas en total donde hay Guitarra, Cante, Palmas, Jaleos, y Baile.
HORA: 20.30h.
28 DE OCTUBRE
Master Class - Grupo Jerez Flamenco Internacional "Bulerías"
HORA: 09.30H
3 DE NOVIEMBRE
"Calma" Jesús Guerrero
Baile: Jesús Carmona y Lucia Campillo, Voces: Roberto Lorente y Loreto de Diego, Guitarra: Daniel Jurado, Palmas: Vanesa Coloma; Diseño de Vestuario: Belen de la Quintana; Diseño de la Iluminación: David Pérez, Diseño de sonido: Juan Luis Vela; prensa y comunicación: Manuel Díaz, Diseño Gráfico: Susana Orellana; Fotografía Jesús Robisco, Ana Iturbide y Marco G Punto, Música: Daniel Jurado, Jesús Corbacho; Loreto de Diego, Coreografía: Jesús Carmona, Distribución y producción ejecutiva: Carmen Cantero y Ricardo López (Art & Danza) y Dirección Artística: Jesús Carmona.
CALMA se trata de un espectáculo de músicas, y lo digo en plural porque, con el flamenco como piedra fundamental, está influenciado por cantidad de estilos musicales que he ido descubriendo a lo largo del camino y que sin darme cuenta, he ido filtrando y han pasado a formar parte de mi propia personalidad e identidad como guitarrista.
HORA: 09.30H
17 DE NOVIEMBRE
"7 balcones" Jesús Carmona
Jesús Carmona con 7 Balcones propone un viaje autobiográfico por siete balcones abiertos a las siete ciudades que han marcado la vida de esta figura del flamenco. Emprende una travesía vital por los momentos y las personas que han supuesto un punto de inflexión en su carrera. Un estilo diferente enmarca cada instante. Pasión y tradición entrelazadas por siete palos regionales.
HORA: 20.30h.
18 DE NOVIEMBRE
Master Class - Jesús Carmona "Técnica y alegría"
HORA: 09.30H
24 DE NOVIEMBRE
"Reflejos" Fefa Gómez
"Tus reflejos en mi, como partes de un todo". Reflejos es un espectáculo donde se realiza una introspección descubriendo los diferentes estados de ánimo de la bailaora reflejados en el otro. Palo a palo , toque a toque buscando las esencias de sentimientos, por los caminos del cante, silencios... Y el hilo conductor fusiona el toque, el cante y el baile como fuerza vital del flamenco.
HORA: 20:30
Compra de entradas: entradasatualcance
Aula de Cultura Alicante
Av. Doctor Gadea, 1
Telf: 966 012 574
www.cajamediterraneo.es
Information compiled by:
TOURIST INFO ALICANTE
Avenida Rambla Méndez Núñez, 41 (Torre de la Generalitat),
03002 Alicante
Phone: 965200000
Fax: 965200243
Email: alicante@touristinfo.net
This office does not assume responsibility for sudden changes or variations of the events published on this site.