Club Llumiq. Verano 2015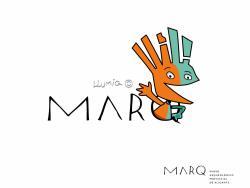 Description:
Actividades culturales
Dates:

Starts: 01/07/2015
Ends: 28/08/2015
Ya tenemos a tu disposición la 11ª edición de las actividades de verano del museo arqueológico. Una amplia programación de lunes a viernes para jóvenes entre los 6 y los 14 años, de 9 a 14 horas. Con talleres, juegos, animación, excursión a yacimientos, visitas guiadas a salas de exposición temporal y permanente...
Cada día de la semana tiene una programación diferente, orientada a dar a conocer los contenidos didácticos de la exposición que el MARQ ofrece en sus Salas Temporales El Último Viaje de la Fragata Mercedes, así como los de su exposición permanente y yacimientos arqueológicos Lucentum e Illeta dels Banyets.
Serán en esta ocasión 8 semanas intensas, con un precio de 30 € por alumno y semana. Las fechas disponibles son:
GRUPOS SEMANALES:
1- 6 a 10 julio
2- 13 a 17 julio
3- 20 a 24 julio
4- 27 a 31 julio
5- 3 a 7 agosto
6- 10 a 14 de agosto
7- 17 a 21 de agosto
8- 24 a 28 de agosto
Las inscripciones son semanales, debes seleccionar el grupo que más te interese, pero ten en cuenta que el aforo es limitado.
HORARIO 9 a 14 horas, de lunes a viernes
EDADES 6 a 14 años
LUGAR DE REALIZACIÓN Aulas didácticas del museo, aula exterior, museo y yacimientos
PRECIO 30 € por alumno / semana
COMPRA DE ENTRADAS E INSCRIPCIÓN Taquillas del museo y enlace a Instant Ticket desde esta misma Web.
PROGRAMACIÓN DIARIA BÁSICA
La programación es cíclica por semanas, aunque los talleres, juegos y actividades irán variando
De lunes a jueves:
9:00 Recepción y juegos de presentación en Aula Exterior
10:00 Acceso a museo, visita a salas
10:45 Almuerzo
11:15 Talleres en Aula Didáctica
12:45 Juegos y Animación
Viernes:
Salidas a Yacimientos Arqueológicos: Lucentum e Illeta dels Banyets:
LUCENTUM
Días en JULIO: 10 y 24
Días en AGOSTO: 7 y 21
PARADAS: Marq/Castillo - Lucentum
Hora prevista Ida 9:33 MARQ-CASTILLO
Visita yacimiento de 10 a 11:30 horas,
11:30 horas almuerzo
Hora prevista Vuelta 12:08 horas LUCENTUM
ILLETA
Días en JULIO: 17, 31
AGOSTO: 14 y 28
PARADAS: Marq/Castillo - Poble Espanyol
Ida 9:45 MARQ-CASTILLO
Visita yacimiento de 10:30 a 11:30
11:30 horas almuerzo
Vuelta 12:20 POBLE ESPANYOL
Por motivos de organización, puede haber cambios en la programación prevista
Opción menú BARQ: 5'50€ menú diario opcional a reservar directamente en la cafetería del museo: 965149000 ext.7102, de 14 a 15 horas.
Fecha fiesta despedida Veranea en el MARQ: 28 de agosto a las 18 horas. Con entrega de premios al concurso de dibujo, al mejor grupo del verano, a la mejor reproducción
Todos los participantes tendrán un regalo y diploma
El lunes a primera hora, los familiares de los inscritos que los acompañen recibirán las indicaciones oportunas y podrán resolver cualquier duda.
Muy importante: los menores no pueden entrar ni salir solos del recinto, así que los que lo necesiten deberán solicitar ficha de autorización a terceras personas para dejar o recoger a los pequeños.
Puedes adquirir tu plaza en las taquillas del museo, dentro del horario habitual, o a través de este enlace: COMPRA TU ENTRADA AQUÍ
Museo Arqueológico Provincial de Alicante
Plaza del Doctor Gómez Ulla s/n. 03013 Alicante
Tel.: 965 149 000

Information compiled by:
TOURIST INFO ALICANTE
Avenida Rambla Méndez Núñez, 41 (Torre de la Generalitat),
03002 Alicante
Phone: 965200000
Fax: 965200243
Email: alicante@touristinfo.net
This office does not assume responsibility for sudden changes or variations of the events published on this site.