Take an interest in Agost's pottery tradition
Publishing date 2/03/2017
Last October, after two years of restoration work, the Pottery Museum of Agost reopened its doors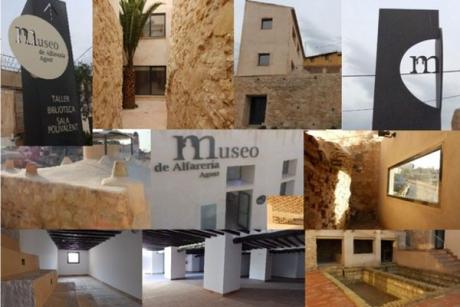 The town of Agost, in Alicante, is closely linked to the tradition of pottery. If you want to gain in-depth knowledge about the secrets and peculiarities of the town, you definitely should visit the Pottery Museum. Throughout the museum halls, the visitor becomes acquainted with the large collection of everyday objects produced over the last two hundred years and the process of ceramic work. The museum is located in an old pottery factory dating back to the early 20th century – an ideal location and atmosphere for delving deep into the art of pottery.

Do you want to experience what it is like to enter an Arab kiln or learn about the area where the potter's wheels or clay decantation tanks are kept? After several years of restoration work, the Pottery Museum reopened its doors last October. The Museum offers the possibility of organizing workshops for schools adapted to the needs of each group. It also has a gallery for temporary exhibits, a specialized library and a multipurpose room for additional activities such as courses and conferences.

In addition to its rich pottery tradition, Agost boasts other charms. Sitting at the foothills of the Maigmó, the northern part of the town stands out for the extraordinary features of its landscape, recognized in Europe as a Place of Community Interest (PCI). A large part of the area is devoted to the cultivation of dessert grapes, forming part of the designation of origin Vinalopó Dessert Grape. As for the urban landscape, the church bells and the dome made of blue roof tiles of the town's 16th century church stand out.