Valencian dinosaurs reclaim their lands
Publishing date 11/04/2017
Camins de dinosaures (Dinosaur Trails) is a proposal that will allow you to follow and discover the vast, varied paleontological heritage of the Region of Valencia.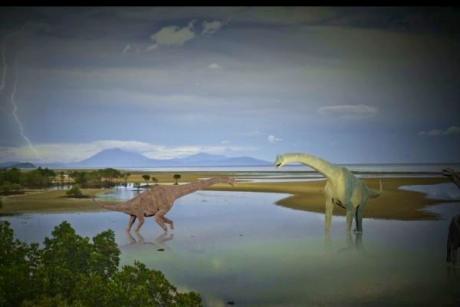 Millions of years ago, dinosaurs ruled supreme over the world and, as this interesting video shows, they have left their tracks throughout the entirety of the Region of Valencia. That is why the Camins de dinosaures (Dinosaur Trails) initiative has been launched, as a proposal to travel across the region of Valencia and discover its numerous and varied paleontological heritage. The route features 30 teaching resources concerning palaeontology that are spread across a number of municipalities. Delve into a mysterious era and discover the fearsome lizards of the Valencian Jurassic and Cretaceous periods.

Alcoi, Rojales, Elx, Guardamar del Segura, Agost, Millares, Alpuente, Chera, Enguera, Requena, Valencia, Bejís, Forcall, Cinctorres, Onda, Morella, Ribesalbes, Portell, and Sant Mateu are the towns where you will find clues to learn more about the life of the reptiles that ruled the world until an asteroid wiped them off the face of the Earth 65 million years ago.

To this day, over ten digs with dinosaur ichnites (fossilised footprints) have been uncovered in the Region of Valencia. All of them have been declared Assets of Cultural Interest, and they all feature a number of facilities that allow tourists to access and enjoy them. Moreover, the museums in Alpuente and Morella, which contain large-sized dinosaur skeletons and bones are worth a visit, as is the Natural Science Museum of Valencia, which features the holotype of the Losillasaurus giganteus sauropod, remains from the Dacentrurus armatus stegosaur and a replica of an Allosaurus fragilis.