The Serranía region reveals its charms in a time lapse
Publishing date 3/01/2017
The Valencian towns of Alpuente and Aras de los Olmos star in a spectacular video.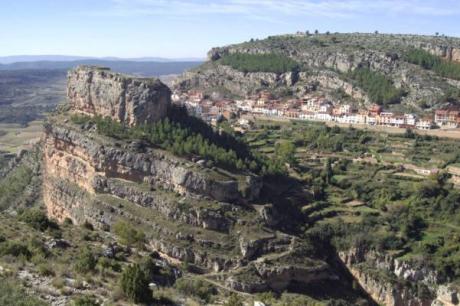 Alpuente is an enclave in rough terrain littered with eroded, rocky cliffs and hills. Film cameras have captured a spectacular natural landscape that acts as the backdrop for the La Serranía region, a former taifa kingdom that retains much of its Medieval essence. The time lapse wanders through its narrow alleys and flagstone-paved squares, its ramparts and towers, its castle rising over a mighty crag overlooking the town, the town hall, the castle and the parish church. The itinerary ends at the Los Arcos de Alpuente aqueduct and its imposing thirteen regular arches.

However, the film camera is aware of the fact that this region in Valencia has many more regions to continue filming. That's why it reaches Aras de los Olmos with its rough terrain, which straddles and is defined by the river Turia. Nevertheless, this place features many attractions including the Torre del Cortijo, the washbasin and the Fuente Grande, the Church of Nuestra Señora de Los Ángeles or the Carlist ramparts.

The time laps ends by displaying the astronomic observatory that sits atop the rock of Santa Catalina, at a height of 1.315 metres, and the stars that flood the night of these two towns, which are currently in the process of being declared Starlight Reserves, thus becoming Astronomic Tourism Destinations, as per the certification extended by the Starlight Foundation.
Disfruta del Time-lapse