Maestrat counties show off their olive oils and dried fruits
Publishing date 21/11/2016
A total of 18 restaurants in the Alt and Baix Maestrat present a variety of dishes and recipes during the 3rd Oil and Dried Fruit Gastronomic Days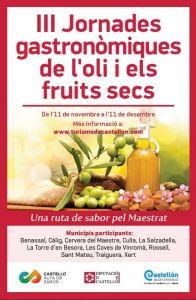 Discover the rich culinary heritage of the Alt and Baix Maestrat during the 3rd Oil and Dried Fruits Gastronomic Days. A total of 18 restaurants from 11 towns in these two counties will offer exquisite prix fixe meals featuring these products. The cost of the prix fixe menus ranges from 18 to 30 euros, with the chance to enjoy traditional dishes as well as more cutting-edge preparations.

From November 11 to December 11, you have the opportunity to sample the essence of this region's gastronomy: veal carpaccio with olive oil made from thousand-year-old trees, duck confit with sautéed dried fruits, red and apple wine, crispy ham on extra-virgin olive-oil ice cream and almond pastry, terrine with hazel nuts and pistachios, sea urchin au gratin with ground almonds and puffed pasta, sautéed mushrooms with crispy ham, pine nuts and walnuts, veal entrecote with olive oil and Arbequina fleur de sel, chestnut ice cream, red fruits and crunchy almond granola.

The counties of the Maestrat are olive oil havens, a symbol of the Mediterranean diet. Along with dried fruits, the spotlight will be on them throughout these gastronomic days, a perfect excuse to visit historic towns chiseled out of stone and surrounded by dramatic landscapes, mountains, watchtowers, grinding wheels, ravines, rock walls and terraces.