The architectural and natural heritage of the Serra de Mariola range and Font Roja seen in a time-lapse
Publishing date 2/11/2016
The inland region of Alicante boasts a multitude of treasures such as the cellars and snow wells of Serra de Mariola and Font Roja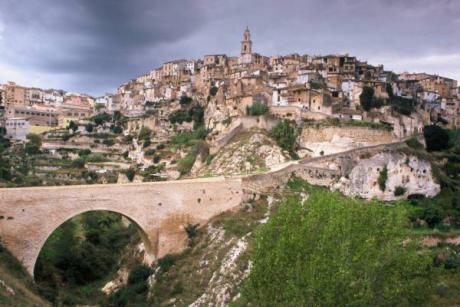 The most iconic spot in the Serra de Mariola is Cava Gran, in Agres, an old snow well dating back to the 18th century that has become the main tourist attraction in the area. The time-lapse starts here, delighting us with the spectacular (and often unknown) architectural and environmental heritage tucked into the natural parks of Serra de Mariola and Font Roja, as well as in neighboring towns, particularly, Alcoi and Bocairent.

Alicante's inland area contains a wide array of treasures. One of them is the ice business symbolized by the different cellars or snow wells that unfold one after the other in time-lapse fashion and that were used to store snow in the form of ice to sell once the winter was over. The video shows the immensity of the Cava Gran, or "great cellar", with its six supporting arches, depth of more than 11 meters and diameter upwards of15 meters, in addition to the dome made of rock that covers the Cava de l'Habitaciò (Room Cellar), which has remained largely intact.

Next is the city of Alcoi, orographically setat the feet of the Serra de Mariola and Font Roja Natural Park. The rapid succession of images symbolizes the intense mercantile and commercial activity of a dynamic city interconnected by a series of stunning bridges.

From there, the camera is drawn to the other main attraction: Font Roja, one of the best-preserved locations in the Region of Valencia. The time-lapse depicts the seductive charm of a setting of immense botanical value set alongside ashrine that oversees the spectacular landscape. The video ends at Covetes dels Moros and the bell tower of Asunción de Bocairent church. Carved in the rock, Covetes dels Moros is considered one of the most beautiful spotsin the Region of Valencia.