Altea surrenders to the festive troops of Moors and Christians
Publishing date 22/09/2014
September is the festive month in Altea par excellence. The Festivities of the Holy Christ of the Sanctuary are held together with the parades of Moors and Christians dedicated to Sant Blai, holy saint of the "white villa". Come to Altea and enjoy, you have two festivities in one.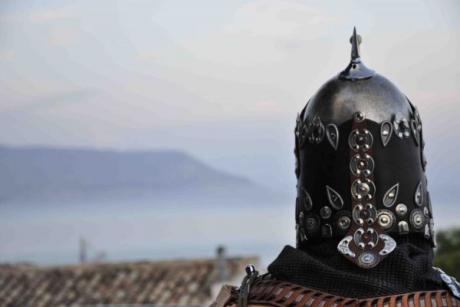 With the Christian and Moors parades, music, the traditional flower offering and processions... Altea is celebrating with pleasure! This year, from 26th to 30th of September, Altea surrenders to its festival. Moors and Christians bring the funnier part of the festivities since 1979.
This year, the villa has also recovered traditions that were lost, such as the ladies' entourage of Christ of the Queen of the Festival, a position hold by María Salvador Cortés this year.
The festival celebrates the traditional game of Valencian ball (Pilota Valenciana) in the Filarmònica St., the children theatre play Neverland. Rescuing Tinker Bell,together with a large children's fun park and the performance of the band Celtas Cortos, whose concert is scheduled for Saturday, September 27th
As the bright end of the town festivity, organized by the Council of Altea in collaboration with the Commission of Christ, the Association of Moors and Christians Sant Blai, the Altea Philharmonic Society and the Municipal Market, this is the second consecutive year when the celebration of The Porrat of Sant Miquelwill tak place. The celebration involves the recovery of one of the most deeply rooted traditions in Altea, as well as a value added to the local business and shops.